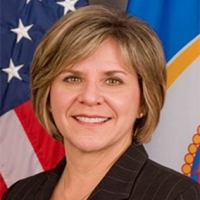 May 16 Luncheon Speaker
March 6, 2019
Law Enforcement Memorial Luncheon Speaker
May 16, 2019 Noon Holiday Inn Downtown Duluth
MONA DOHMAN
COMMISSIONER
MINNESOTA DEPARTMENT OF PUBLIC SAFETY
Mona Dohman was appointed commissioner of the Minnesota Department of Public Safety by
Governor Mark Dayton in January 2011, and served in that position until the end of the Governor's term on Jan 7, 2019. Mona Dohman has been nominated by the President to serve as the US Marshal for the District of Minnesota.
Prior to her appointment as commissioner, Dohman served 10 years as chief of the Maple Grove Police
Department. She joined the department in 1984 and served in various capacities before her
appointment to chief in 2001. Dohman's over 36 years of law enforcement experience also includes
serving as a patrol officer in Glencoe and Marshall.
Appointed chair of the Police Officer Standards and Training (POST) Board by Governor Tim
Pawlenty in 2010, Dohman has worked with the legislative and executive branches to implement
policies designed to improve and expand the role of law enforcement across a spectrum of issues.
Dohman is a past president of the Minnesota Chiefs of Police Association and the Hennepin
County Chiefs of Police Association. She is a member of the International Association of Chiefs
of Police (IACP); Suburban Law Enforcement Association; Law Enforcement Memorial
Association; and Association of Minnesota Emergency Managers.
Mona Dohman is a graduate of the University of St. Thomas with a master's degree in
Educational Administration with a focus in Police Leadership. Her other degrees include a
bachelor's degree in Criminal Justice Administration from Metro State University, and an
associate's degree in Law Enforcement from Alexandria Technical College. Dohman also is a
graduate of the FBI National Academy in Quantico, Virginia.
She and her husband, retired St. Louis Park Police Sergeant Ward Dohman, reside in Maple
Grove where they raised their three children.
On Home page click to register for the 2019 Law Enforcement Memorial Breakfast. Tickets are $18 each through April 30th, 2019. Beginning May 1st price per ticket is $25 while supplies last. ($25 Tickets sold at the door if seats are still available) Luncheon begins at Noon and ends at 1:00pm and is open to the public. Register early to reserve your place. Questions? Call 218-966-0615
Back